The person... Gemma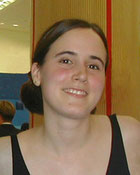 I am asked for preparing a small text about my daughter Gemma and, although the uncertainty that this requeast means, I decide to try it.
I was conscious that my point of view will be partial and subjective, but, aren't all the perceptions truly personals in this way?
I breathe deeply, and start my attempt of writing what the figure of my darling daughter suggests to me.
My daughter Gemma, who was beside us full of life during twenty-two years, was in a hurry to share her time with us since the first of her days.
She waited that her sister, better set than she at the moment to be born...
under construction